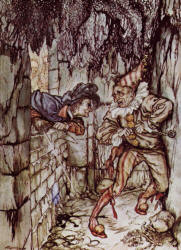 I was pretty excited as I began my preparations to brew my first Belgian IPA, the Disheveled Dwarf. This is still a developing style and has yet to be precisely defined, and this is part of the excitement of making a beer like this, you are helping to shape its future. Generally, most Belgian IPAs feature Belgian-style malt with North American hops fermented with a Belgian yeast. The result is a beer that is often dry and bitter, usually high in alcohol, and has flavours that can be earthy, floral, fruity, citrusy, and spicy. When done well it can be a cornucopia of complex, well balanced flavours; when done poorly it can be a complicated mess.
The style is very much a North American innovation, a classic example of our side of the Atlantic taking European conventions and altering them to our own purposes. Thus, most Belgian IPAs come from North America, with some notable exceptions, in particular Houblon Chouffe from the Belgian brewery
La Chouffe
, a beer that although I have not tried, is said by many to rule the style. The main inspiration for my beer comes from a local version,
Phillips Brewing's
Hoperation that I reviewed
previously
. This is one of my favourite beers at the moment and I planned to model much of my beer on what I liked about it. Hoperation is both bitter and dry, and although it does have an element of citrusy grapefruit to its finish, I felt that much of its success comes from the spiciness of its hops on the front end. (the flavours of the entry and mid-taste, before the aftertaste) These spicy hops seem to enhance the natural spiciness of the Belgian yeast, whereas I believe strong citrus flavours would merely cover them up. In addition the nose is not clouded by strong hops but allows the Belgian fruit aroma to come through. Searching the internet for guidance showed me that as always in brewing (and anything I suppose) the path to success is hotly debated, but it is my feeling that one of the keys to this style is using spicy and fruity hops for the late additions to enhance the natural flavours created by the Belgian yeast. At least I hope so.
First Wort Hopping
When I first drew up plans for this beer I was aiming for something in the 7% abv range but after buying my ingredients and thinking about the amount of hops I wanted to unleash I realised that it might need more malt for balance. I was waiting at the brew shop when they opened on my brewday and quickly bought two more pounds of pilsner malt to go for around an 8% abv. I would use high alpha Bravo and Columbus hops for bittering, and the late additions would involve tons of Saaz hops for spiciness and the amazing new Calypso hops to lend a fruity character. I decided not to use any hops after the last 5 minutes of the boil nor do any dry-hopping, to allow the aromas of the yeast to come through. I would also try a new technique for imparting hop flavour known as first wort hopping. This is actually an old method that was recently rediscovered, and involves throwing some of the bittering hops into the kettle as the first runnings from the mash enter it. I have read many rave reviews of this technique, as apparently this mysteriously fixes an intense hop flavour into the beer. I decided on using a saison yeast that I had left from a previous batch, my only concern was the extreme attenuation (ability of yeast to consume available sugar) of this yeast. Although I wanted a dry beer I was afraid it might make it too dry as the gravity of a beer I used it for came all the way down to 1.000! To counter this I added just over half a pound of very light crystal malt that would hopefully leave enough residual sweetness to prevent this beer from being mouth puckeringly dry. As a final addition I would use a small amount of grains of paradise to add a spicy pepper taste and help bring out the other flavours.
The brewday went smoothly, the only hitch being that my efficiency was a little better than I expected, and thus this beer could reach as high as 8.5% abv. That's not really a bad thing as it can probably use all the malt it can get to balance the intense amount of hops I added. I'll definitely be waiting with bated breath as this beer gets closer to being ready to drink.
Geek Info
Method:
All Grain
Target Original Gravity:
1.065
Actual Original Gravity:
1.068
Target Final Gravity:
1.006
Brewhouse efficiency:
71%
Target Alcohol by Volume:
8.4% abv
Bitterness:
84.8 IBUs
(based on actual og)
Malt
10 lbs. Pilsner Malt 64%
3 lbs. Vienna Malt 19%
1 lb. Aromatic Malt 6%
1 lb. Wheat Malt 6%
10 oz. Crystal Malt (10 L) 4%
Hops
1 oz Columbus (pellets) 12.6 aa 60 mins
(0.2 oz. of this used for first wort hopping)
0.5 oz. Bravo (pellets) 14.2 aa 60 mins
(0.1 oz. of this used for first wort hopping)
2 oz. Saaz (pellets) 5.8 aa 20 mins
0.5 oz. Calypso (pellets) 12.8 aa 20 mins
2 oz. Saaz (pellets) 5.8 aa 10 mins
0.5 oz. Calypso (pellets) 12.8 aa 10 mins
2 oz. Saaz (pellets) 5.8aa 5 mins
0.5 oz. Calypso (pellets) 12.8 aa 5 mins
Yeast
Wyeast 3711 French Saison
Other
1 tsp. Irish Moss 10 mins
1/2 tsp. Grains of Paradise 5 mins